Eye Film Institute
The new Eye film Institute replaces the old film museum, just off Vondelpark. The building is new and very different; as are many new buildings in the Netherlands. The Eye is more than a museum it is an archive of film both Dutch and international films.
Although the primary exhibition was not open, there is a free exhibit in the basement.
Panorama, Pods and a Playground
As you walk into the Panorama you are subjected to 4 walls of movie clips, various genres from different countries and periods. The fun begins when you step up to a podium and select a clip or three. Each podium is a specific type of film, from blockbuster to animation. Each clip includes a note with information.
The pods provide a more private experience, the focus (pun intended) is primarily on Dutch films and actors but there is the chance to watch more full length films either by type or historical significance. This is where I found the Little Dutch Mill, and animation with a really cool special effect, for it's time.

(Hint, look at the windmill)
More information here: http://www.michaelspornanimation.com/splog/?p=2707
The Playground was a group of interactive installations. The most interesting was a "vending machine" that played a movie that you could record on your smart phone. Start recording a movie, put your phone on the small conveyor belt then push a button. Your phone with vanish for a minute then pop out. you could watch the movie on your phone or upload it for other people to enjoy. Here are the 2 films.
MDSM werf
one of Amsterdam's old shipyards has become an incubator for creativity. It has become a site for parties and lots of other creative pursuits. It is the location of the Botel, a hotel on a boat flanked by a Greenpeace boat a lightboat and an old Russian sub.
I got a quick lunch, cheese on raisin bread, I think there was some bread between the raisins, and a beer (all for 5€) and then a ferry ride back to Centraal Station.
A ferry ride you ask? Right behind Centraal Station you can find 4 ferries, the fast ferry towards Zandam (paid), and 3 free ferries to the northern suburbs of Amsterdam. The ferry towards the MDSM werf is the best, in my opinion, it's about 15 minutes long and you get some great views of Amsterdam along the river. the other two ferries just cross the river and are about 5 minutes each. All 3 are worth taking.
Brouwerij 't IJ ("The IJ Brewery")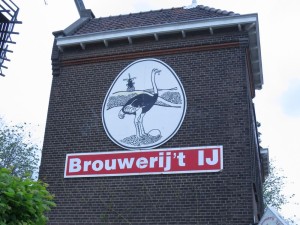 The Netherlands and Belgium are both famous for their beer, that's not news. Sometimes you make a discovery, and Brouwerij 't IJ  was one of those discoveries. This is a tiny brewery with a small collection of beers, 5 regular and a growing collection of seasonal beers. The draw was the brewery tour and tasting. Unlike the Heineken Experience, this isn't a museum but a tour of a working brewery.  Informative and fun, and well worth the trek.
If you can find their beer, buy it!